Petunia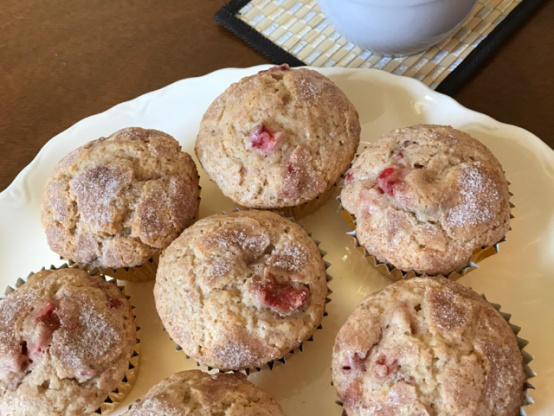 This is a variation on the blueberry muffin I have posted. Great for when strawberries are fresh and in abundance!

Super good, and fluffy too!!! This is exactly what I was looking for. My only complaint is the cinnamon sugar topping makes WAAAAY to much. I used half which was still a lot, and put the rest in a baggie. Will use it to make cinnamon toast in the mornings for the kids. Thanks for sharing this recipe :)
Preheat the oven to 375 degrees.
Whisk the melted butter, 1 1/4 cups sugar, salt, eggs, vanilla and orange zest together in a bowl. Sift the flour, baking powder, nutmeg, and 1/2 tsp cinnamon over the butter mixture. Stir together.
Add the berries to the mix and gently fold a few times.
Add the buttermilk and gently mix together.
Scoop out the dough into paper lined muffin pans. This will make 6 jumbo muffins or 12 standard sized muffins.
Combine the remaining 2 tbsp cinnamon with the remaining 1/4 cup sugar and sprinkle on top of the muffins.
Bake for 20 minutes (for standard sized muffins) or 35 minutes (for jumbo sized muffins.).