Dorel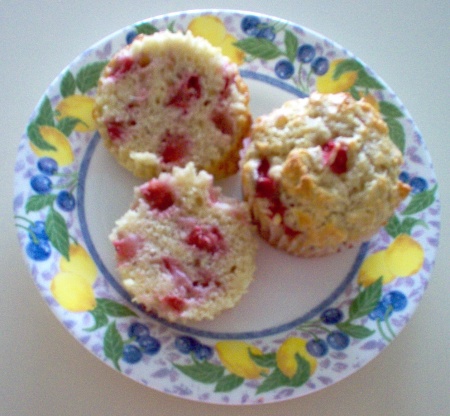 Adapted from Woman's World magazine. They sprinkled unbaked muffins with additional granulated sugar and frosted cooled muffins with canned vanilla frosting.

I used 2 cups of strawberries and smashed them with a pastry blender. I was short 1/2 cup of all purpose flour so I substituted bread flour and it was fine. I also used the tip someone else suggested by adding sugar to the strawberries so I added one tablespoon to them and let them sit for 15 minutes. I baked them for 18 minutes and they were very moist and tasted wonderful right out of the oven and still warm.
Preheat oven to 375. Coat muffin cups or tray with nonstick spray.
Combine dry ingredients.
Beat butter and sugar until smooth. Add in sour cream, eggs and dry ingredients until just combined. Spoon into muffin cups.
Bake 20 minutes or until a toothpick inserted into centre comes out clean. Cool on rack.