Jon Born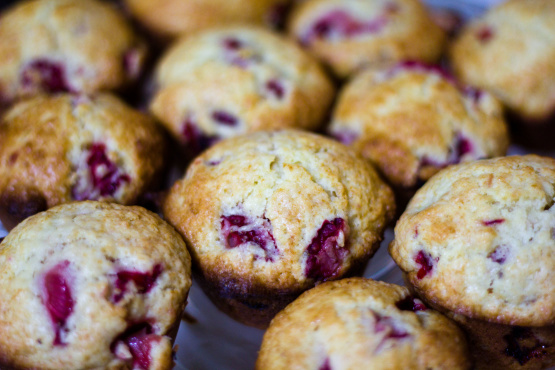 I like this recipe for teacher gifts, church socials and just plain munching on! I can never make enough!

Delicious! A sweet, moist, fruity muffin. Yummy while hot right out of the oven! I also increased the strawberries to 2 cups. I used only 1/2 cup (one stick) of melted margarine, not butter. I decreased the baking powder to 2 teaspoons rather than 2 tablespoons - I thought that may actually be an error in the recipe (the usual ratio is 1 teaspoon baking powder to each 1 cup flour). I ended up with 15 muffins. Posting a picture as well. Thanks so much for a delicious baked goods recipe to use my fresh berries!
Heat oven to 375°F.
Combine flour, baking powder, salt and 1 cup of the sugar in medium bowl.
Toss in strawberries, set aside.
Beat together eggs, butter, milk and vanilla in small bowl.
Add wet ingredients to the dry ingredients; stir until just combined.
Spoon batter into muffin tins lined with paper.
Sprinkle 1/2 tsp of sugar on top of each muffin.
Bake 25 minutes or until a toothpick inserted in middle of muffin comes out clean.