Strawberry, Melon & Avocado Salad
jenne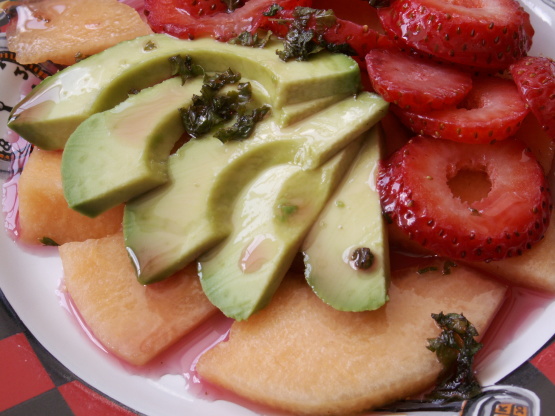 Yet another scrumptious salad from Eating Well Magazine. This composed salad makes a cool kickoff for dinner or a nutrition-packed lunch on its own. Easy too!!! NOTE: I just made this salad using melon, berries and avocado only and topped it with the dressing made with Blueberry Pomegranate Infused Red Wine Vinegar and it was awesome!!!
Whisk honey, vinegar, mint, pepper and salt in a small bowl. (You can make this dressing up 1 day ahead if necessary).
Divide spinach among 4 salad plates. Arrange alternating slices of avocado and cantaloupe in a fan on top of the spinach. Top each salad with strawberries, drizzle with dressing and sprinkle with sesame seeds.
Tip: To toast sesame seeds, heat a small dry skillet over low heat. Add sesame seeds and stir constantly until golden and fragrant, about 2 minutes. Transfer to a small bowl and let cool.