alligirl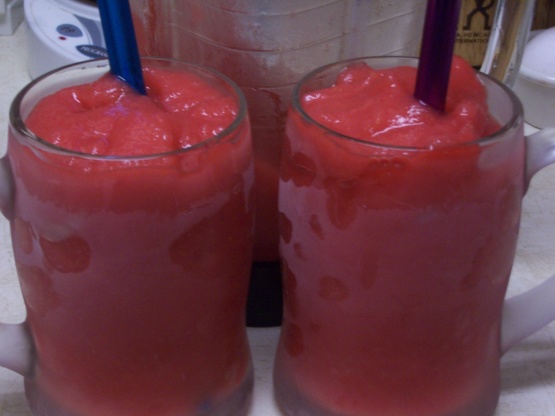 A favorite southwest beverage that may be prepard with or without alcohol. Tangy and sweet that goes great with my BBQ Stuffed Jalapenos. When the strawberries are in season it is better but frozen whole fruit can be used for a winter treat. As with any alcohol beverage please drink responsibly.

This was refreshing and tasty! I used powdered sugar, as I thought it would blend better...I also added a bit of Sprite(lemon-lime soda), to help expedite the blending of the drinks! Thanks, kegparty, for a wonderful summer refresher! Made for Spring PAC '09.
Stem and core whole fresh strawberries and place in freezer 4-6hrs prior to making this recipe.
Using blender place first six ingredients and chop for 15 seconds.
Place ice in blender and mix until smooth.
Serve with fresh strawberries as garnish.