akgrown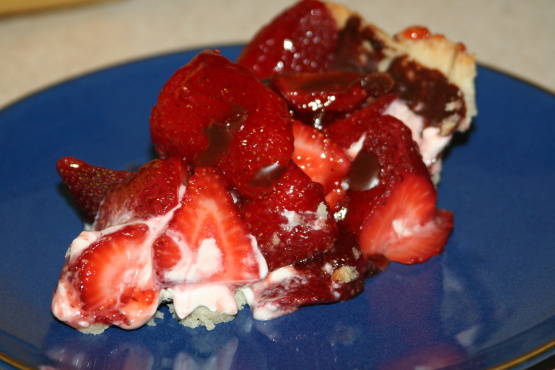 The second question people ask when I serve them this pie is, "What's your recipe?" It comes right after their first question—"May I have another slice?"

This was a good pie; however, i found it tasted more like a cheesecake than a pie. I thought the crust would get "wet" from the strawberries but the choclate formed a nice shield from the filling & topping. next time i think i'd add a touch of almond extract to the filling to give it an extra punch of flavour.
In a saucepan, melt 2 ounces chocolate and butter over low heat, stirring constantly; spread or brush over the bottom and up the sides of pastry shell. Chill.
Meanwhile, in a mixing bowl, beat cream cheese, sour cream, sugar and vanilla until smooth. Spread over chocolate layer; cover and chill for 2 hours. Arrange strawberries, tip end up, atop the filling. Brush jam over strawberries. Melt the remaining chocolate and drizzle over all.