Strawberry Limeade Slush Weight Watcher's Style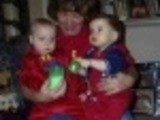 What a wonderfully refreshing and delicious drink - made with fresh strawberries. This is healthy and nutritious and the teenage boys that come to my house can't stop at just one glass.
Directions
Fill 1 cup measuring cup with ice and then water to make one cup.
Blend in a blender or food processor and pulse until crushed.
Add the strawberries, sweetener and limeade. Puree until smooth and thick.
Most Helpful
Love lime and berries ! Great Recipe !

A bit too sour for our tastes, but nonetheless it was refreshing!!
I have been making this ever since I got my Magic Bullet blender. I love it! It is a nice slushy drink and I sometimes add banana or peaches to this. Sometimes I don't even use the artifical sweetner. Thank you for sharing the recipe. Its a everynight treat for me!