Strawberry-Lemon Angel Food Trifle
BecR2400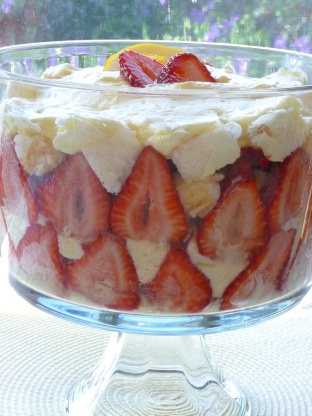 A wonderful quick and easy trifle for Easter, or anytime! Luscious lemon filling plus fresh strawberries and whipped cream are layered with angel food cake cubes in this delicious variation on my Strawberries and Cream Trifle. Tip: Can be made using part lemon curd and part lemon pie filling for a more lemony-tart version. Yum! I like to make this trifle in the morning or a day in advance, and then chill until ready to serve. Can be made in a large trifle bowl, or in individual dessert glasses. Enjoy!

I had this last night to go with a grilled shrimp and tilapia meal. I made it earlier in the morning and chilled it. Also added the lemon liqueur. I had to ask the liquor store where to locate it and I do believe it stepped the desert up a couple of notches. I made it in a trifle bowl for the presentation. Was worried in the beginning when doing the whipped cream about getting it to peak but it worked perfectly for me. Took the leftovers to work today and it lasted in my office about 10 minutes. Everyone asking for the recipe. Thank you again for another great recipe. Since I used two of them yesterday and the dinner was perfect!!
Whip the cream until soft peaks form; beat in the vanilla and sugar and mix thoroughly.
Gently fold lemon filling into the whipped cream (add lemon zest and Limoncello, if using).
In a trifle dish or individual dessert dishes layer the strawberries, cake cubes, and lemon creme mixture.
Arrange a few strawberries on top.
Serve immediately, or cover with saran wrap and chill until serving time.