loof751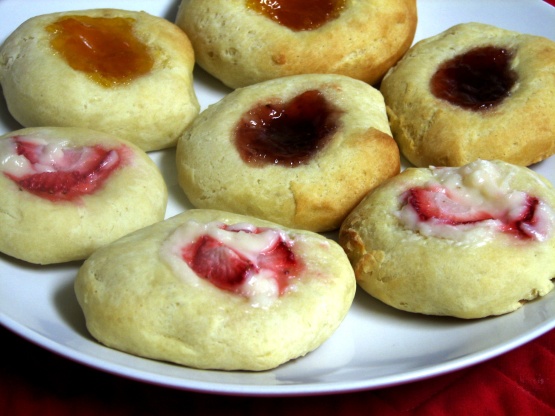 This recipe is from the Red, White & Blue Ribbon 2004 Cookbook. It's a collection of recipes from contests and food festivals. There are some real winners in this book. This is one of them. It was the "Berry Best in Show" winner at the 2003 Poteet Strawberry Festival in Poteet, TX and was entered by Paige Smith. Recipe note: I use butter instead of margarine. Times indicated do not include refrigeration overnight, or rising time.

Great! I'm a huge fan of PanNan's Recipe #37793 and make them often, but was looking for a good sweet kolache dough. Definitely found it with this recipe! Made the dough in the breadmaker using light organic sour cream and butter. This dough is very wet and I would have been tempted to add additional flour but was glad I didn't. Refrigerating the dough overnight and forming while chilled makes it easy to work with and roll into golf ball-size balls. Baked, these are light, tender, buttery, and very flavorful. I am thrilled to find this recipe, and like the sausage version, will make them again and again. I haven't make sweet kolaches since I was a kid, but decided to go on this quest after tasting some horrible half-rate kolaches from Kolache Factory. Made a half recipe of the strawberry topping using light cream cheese. Refrigerating overnight does make the mixture pink and watery. Half a recipe was enough to fill 24 kolaches. Next time I would dice the strawberries, my slices ended up a bit too big. We loved the flavor of the filling, very different and quite tasty. I might try using the filling without refrigerating next time. The kids have been heating these up for breakfast and loving them all week, they store well in the fridge or freezer. While I had planned to make a variety of pie fillings or traditional kolache fillings, I slacked and filled the remaining kolaches with a variety of jams that were in my fridge: pineapple preserves, Christmas jam (strawberry/cranberry), caramel pear butter, and pear honey. The assorted flavors were also very good. Thanks for sharing the recipe, Nan, I'll be making these often!
For the dough:.
Heat the sour cream over low heat until it is warm. Stir in the sugar, salt, and margarine; transfer to a bowl and cool.
Sprinkle the yeast over warm water; let it stand until the yeast is dissolved, then add to the sour cream mixture. Add the eggs and flour and mix well. Put the dough in a greased bowl; cover and refrigerate overnight.
For the topping:.
Combine the cream cheese, egg yolk, sugar and vanilla until smooth. Stir in the strawberries. Refrigerate overnight.
The next day, form the dough into 36 balls, and place them on a greased baking sheet, leaving room for them to double in size. Flatten each to about 1/2" height, and let rise for about 10 minutes. Make indentations in the dough with your finger. Put a little strawberry topping in each indentation. Let them rise until double in size (time will vary according to conditions).
Preheat oven to 350 degrees, brush the tops of the dough around the filling with melted butter, and bake kolaches for about 10 - 12 minutes, or until golden brown.