Tisme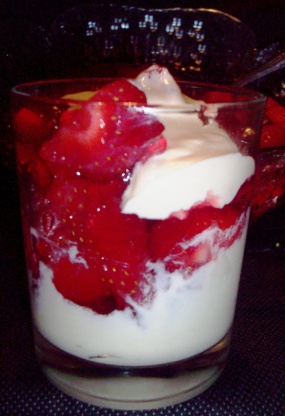 I cant beleive this recipe is not on zaar. My nan and mum used to make this for us when we were kids. I took on this recipe and made it for my kids. It wasn't until I went to the supermarket and DS now 21, and DD now 17 saw the strawberries and asked me to make it. Its so easy to make, the worst part is waiting for it to set!

It doesn't get much simpler. This would be perfect after a big, heavy meal or in the summer. Prepare it in the morning & let it set all day in the fridge. The jello didn't set all the way - it was still a bit mooshy (in the fridge for nearly 12 hours) but it was still delicious! Made forrrrr... Make My Recipe '10. Thank you!
Arrange strawberries in a 5 cup dish.
Place jelly crytals in a medium heatproof jug and add boiling water until the jelly crystals dissolve.Stir in cold water. (Cool just a little if using a non heat proof dish)
Pour jelly mixture over the stawberries.
Cover and refrigerate for 2-3 hours.
Serve strawberry jelly with cream or ice cream -- or both!