tarra_32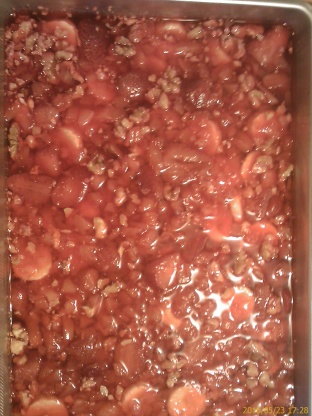 This is one of those dishes that my mother is always asked to bring to Christmas and Thanksgiving gatherings. She makes different versions based on the tastes of those receiving it. Some prefer no nuts, others prefer no sour cream, others prefer no bananas. I think the original name of this salad is Strawberry Sour Cream Salad, but since she omits sour cream most of the time, we usually just call it Strawberry Salad.

Did not jell at all. I stayed up for about three hours to be able to add the sour cream and top layer. I finally add it to a partially jelled first layer and added the rest of the jello mixture. It overfilled the 11X13 inch pan. After being in the refrigerator all night, it never jelled. I threw the whole thing away without being able to eat any. I think that it probably would have worked with 1 less cup of liquid. I wonder if there is an error in the recipe.
Using a strainer placed over a bowl, drain the strawberries and pineapple, reserving 2 cups of the fruit juice.
Dissolve jello in boiling water.
Add 2 cups reserved fruit juice. (If you do not have enough juice from the fruit, add cold water).
Add the sliced bananas, drained strawberries, and drained crushed pineapple. (IF you are not using the sour cream, mix in walnuts, then pour entire batch into 9x13 dish and skip to final step).
Pour half the jello mixture into a 9x13 dish.
Refrigerate until set. Do not refrigerate the remaining jello mixture in the bowl-otherwise it will begin to set.
Spread set layer with the sour cream and sprinkle with walnuts (if using). Pour remaining jello mixture over sour cream layer.
Refrigerate several hours. This sets up best overnight.