Strawberry Jell-O Poke Cake
Nado2003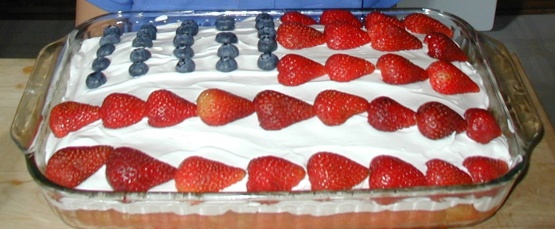 Great pot luck or BBQ dessert. Strawberry shortcake in one pan!
We used to have these for 4th of July picnics in Michigan. I made this last July 4th, frosted it with fat-free whipped topping, and decorated with fresh strawberries and blueberries into the shape of the American flag. Thank you for posting the recipe. I do not know how to tell the people not to rotate the photo so that it shows it like the US flag. They keep rotating it and loosing the effect.
Prepare cake mix according to instructions on box for a 13x9-inch cake. As soon as cake comes out of the oven, poke holes in it with a fork.
Meanwhile, mix strawberry gelatin with 2 cups boiling water, stirring well to dissolve. Cool slightly.
Pour gelatin over the cake and chill until set.
Mix strawberries with sugar.
Top cake with the strawberries, juice and all, then Cool Whip.
Refrigerate until ready to serve.