Strawberry Greek Yogurt Balsamic Muffins
ellie_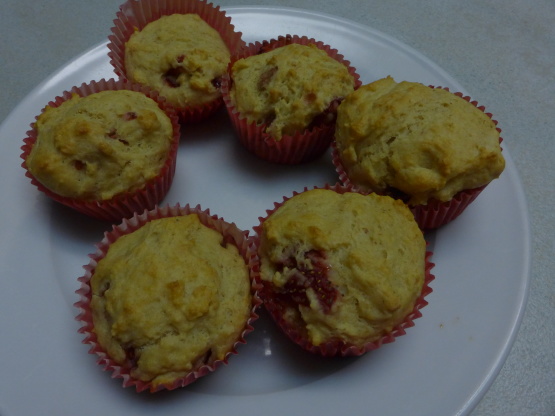 These are not your typical morning muffins. Yes, you would think that these ingredients do not really go together, but they do! Balsamic vinegar highlights the flavor of strawberries. Some chefs actually say that strawberries are interchangeable with tomatoes because they share many flavor components. Prep time does not include the time for the strawberries to macerate. From the food blog olivetomato

Top Review by ellie_
Wonderful muffins - made as directed except I used splenda for the sugar and only almond extract. I also used all regular flour - white and wholewheat. I made 24 muffins - had six for dinner and froze 12, and figure the rest will be gone by breakfast.These went fast! Thanks for sharing!
First prepare the strawberries. Place them in a bowl add the vinegar and sugar and blend, let it sit for an hour. Sprinkle with black pepper, it gives it a little kick.
Preheat oven at 400 degrees Fahrenheit (200 degrees Celsius).
Mix the flours, baking powder, baking soda, and salt in a bowl.
In a large bowl mix the brown sugar with the olive oil making sure it is blended well and it's smooth. Add the eggs mixing well after adding each egg. And then add the yogurt, vanilla and almond extracts, mixing well after adding each ingredients. Use a spoon or spatula not a mixer.
Add the flour mixture to the olive oil mixture and blend with the spoon, do not over mix, the dough will be vary thick. Finally add the strawberries carefully making sure they are spread everywhere.
Line a muffin pan with paper liners and fill each one with the dough.
Bake for about 18-20 minutes. Check with a toothpick to see if they are done (toothpick should come out clean).