Strawberry Granola Crunch (Clean Eating)
Prep 10 mins
Cook 20 mins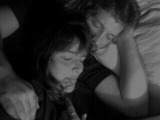 Adapted from http://thejoyofcleaneating.com/recipes/clean-eating-strawberry-granola-crunch/
Directions
Preheat oven to 325°F Line a baking sheet with parchment or silpat.
Place the nuts into a small food processor and pulse to crumble (if you don't have a food processor, you can use a Ziploc bag and a rolling pin). Don't overdo it, you don't want them finely ground, just lightly chopped/crushed.
In a medium sized bowl combine the chopped nuts, oats, and cinnamon. Stir to combine and set aside.
Place the fresh strawberries, honey, and vanilla in a small food processor (or blender) and blend until pureed. Pour into oat/nut mixture. Toss/stir to combine.
Line a baking sheet with parchment paper or a silpat. Spread the granola in a single layer on top. Bake for 20-25 minutes, stirring every 5-7 minutes. Don't be concerned if the granola seems mushy. Remove from the oven and let it sit and cool for one hour.
After the granola has cooled and become crunchy, fold in dried cranberries and store in a Ziploc bag. Enjoy as a cereal, snack, or over ice cream.
Most Helpful
We really liked the combo of fruits & nuts in this granola, & I did use some of the tastiest small-sized strawberries for this! Sprinkled some over cottage cheese for an initial snack, then went from there with a bit of ice cream before having some with milk for breakfast the this morning day! This is definitely a prize-winning keeper recipe! Thanks for sharing it! [Tagged & made in Please Review My Recipe]
What a unique idea! I didn't really taste the strawberry but loved that it was in there. A nice crunch from the nuts. Served with almond milk for a nice breakfast. Thanks! Made for PRMR game.