Strawberry Graham Cheesecake With Chilled Cream Topping
BB2011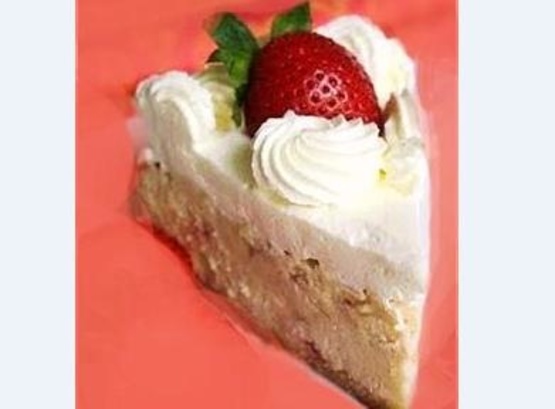 This easy-to-follow recipe makes an elegant cheesecake from scratch fit for a dinner party. Cooking time includes oven and refrigerator time.
CRUST:.
In a small bowl, mix together the graham cracker crumbs and sugar. Add in the melted butter and stir to combine until completely moistened. Press the mixture firmly into the bottom of the prepared pan, and up the sides of the pan about two inches. Set aside.
FILLING:.
Break the softened cream cheese into chunks and place in a large bowl. With the mixer on medium speed, beat the cream cheese for about 3 minutes, until very soft and creamy.
Add in the sugar and continue to mix on medium speed, for 1 to 2 minutes, until the batter is smooth.
Add in the eggs one at a time, and beat well after each addition.
Reduce the speed to low, and add in the sour cream, flour, vanilla extract, and lemon juice. Beat just until thoroughly blended.
Gently stir by hand the strawberry jam and the 1/2 cup of chopped strawberry pieces into the batter.
Pour all of the batter in the pan that's already been lined with the crust and jiggle the pan gingerly until the top of the batter appears settled and smooth.
Bake at 350F for one hour. Turn off the heat when the hour is up and let the cheesecake rest undisturbed in the oven, with the door closed, for 30 minutes.
CREAM TOPPING:.
Chill a bowl and the beaters from your mixer in the freezer for at least 20 minutes.
Add the cream, sugar, and vanilla to the chilled bowl.
Beat on low speed until small bubbles form, about 30 seconds.
Increase speed to medium and continue beating for another 30 seconds.
Increase speed to high and beat until cream is smooth, thick, and nearly doubled in volume, about 30 seconds.
Once the cheesecake is cooled, spread the cream topping on it and pipe more around the edge. Place in the refrigerator to cool for 8 hours.