A Strawberry Glaze I haven't found on Zaar. I haven't try it but I guess it's delicious on a piece of cake :P
Directions
Mash strawberries.
Combine them with sugar and cornstarch in a heavy saucepan.
Stir well.
Cook oven medium heat until thick, stirring constantly.
Stir in Grand Marnier.
Cover and chill.
Reviews
Most Helpful
Great compliment as a topping on a 9" cheesecake.I did not comletely mash the strawberries......I left the glaze chunky only mashing one half of the pot and I double the recipe but only add three Tblspns of Grand Marnier instead of four....comes out perfect.

Great strawberry glaze -- perfect for strawberry shortcake or ice cream. I have access to fresh- picked strawberries at our local Farmer's Market so I'll be using this recipe often. I like the idea of using other fruits as well. Made for Everyday is a Holiday tag, May, 2013.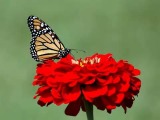 I used raspberries in my recipe and more sugar - but just enough that the sweetness wasn't so overwhelming to cover the raspberry taste.
I used this on my cheesecake and it was great!