ChefLee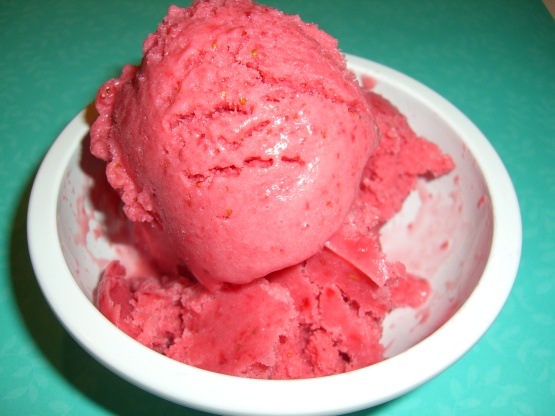 What a nice summer dessert! Used this recipe as kind of a guideline, and it turned out very well. For the yogurt, I used a 7oz container Greek yogurt and 1 1/2 cups lowfat regular yogurt. Substituted a sweet white wine for the vodka, added 3/4 tsp vanilla extract, and reduced the sugar by about 2 Tbsp. I found that the small amount froze very quickly in my ice cream maker (only 20 minutes) and became very firm after being in the freezer for a couple hours. I would suggest removing the frozen yogurt from the freezer at least 10 minutes before serving. Can't wait to make this again.
Slice strawberries into small pieces; toss in a bowl with sugar and vodka, stirring until the sugar begins to dissolve.
Cover and let stand at room temperature for 1 hour, stirring every so often.
Puree the strawberries and their liquid with the yogurt and lemon juice in a blender or food processor until smooth.
You may press the mixture through a mesh strainer to remove any seeds; this is optional.
Refrigerate mixture for 1 hour, then freeze in an ice cream maker according to manufacturer's directions.
May eat right away or transfer to freezer container and freeze several hours for firmer texture.