Strawberry French Toast Triangles
twissis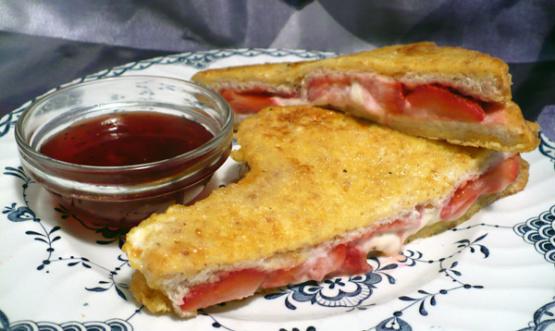 Make this easy breakfast for your little ones! Adults would like it too;)

What a treat this was! An easy fix that's creamy rich & buttery, almost like eating dessert for breakfast! I made 2 servings as written & IMO it would be a little messy for really little ones to eat. I found it easier to eat w/a fork than to dip in the syrup mixture, but maybe cooking them more crispy than I did works best. Many options come to mind ~~ like using bananas w/the syrup if you lacked strawberries *or* dusting w/powd sugar if you lacked the jam *or* using whipped cream topping w/choc sprinkles. Thx for sharing this great recipe w/us. :-)
Spread 4 slices of bread with 1 TBS cream cheese each and divide strawberries among them. Top with remaining slices to make sandwiches.
Lightly whisk eggs and milk in a shallow bowl.
Heat half the butter in a large nonstick skillet or griddle over medium heat. Dip sandwiches, one at a time, in egg mixture until totally wet. Cook sandwiches, in batches if needed, until golden brown, 3 to 5 minutes per side. Add remaining butter to skillet as needed.
Meanwhile, combine syrup and jame in a small bowl. Microwave until jam is melted and syrup is heated. (About 15-30 seconds). Stir well.
To serve, cut sandwiches into triangles and dip into strawberry syrup.