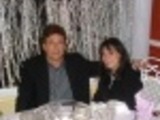 Super fast - great for when you need to put together a dessert quickly. Of course, feel free to use fresh strawberries, when available.
Directions
Puree strawberries with sugar in food processor. Place in mixing bowl.
Using electric mixer, beat cream to soft peaks; beat in vanilla.
Add cream to strawberry puree and lightly fold with 2 strokes of spatula. Carefully ladle into goblets and serve.
Reviews
Most Helpful
Great strawberry flavor and very easy to make. Made for Think Pink 2010.
Fool for love, love for fool; same difference. Made for PRMR.

Thank youJackieOhNo, for posting this recipe. The pretty fool was wonderful, tasty and refreshing. It was quick and very easy to make. I used a mixture of frozen strawberries and raspberries, they worked great together. I will make this again and again.