Strawberry Filled Cookies
Thorsten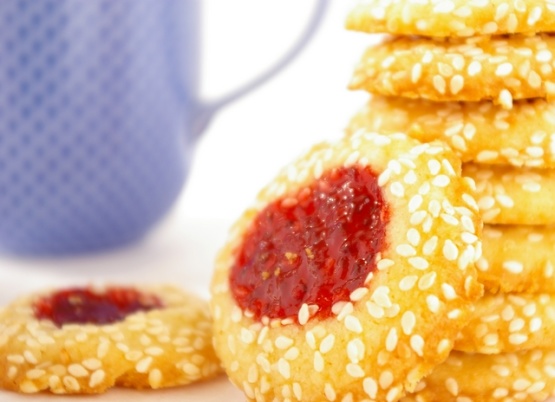 When I make cookie trays for gifts, these are always a must. Be sure and try them with the sesame seeds. These are very easy and a favorite.

Yum! I pulled this up when I was having a super sweets craving and not many ingredients. I made them with Earth Balance to make them vegan, which made them a little bit crumbly, but that's to be expected. Next time I'll use a little more preserves (I used blackberry) and a little less salt. Very good and satisfied my sweet craving!
Cream butter, add sugar, salt, vanilla and flour.
Form into small balls and roll in sesame seeds.
Make a thumbprint in center of balls.
Fill with strawberry preserves.
Place on cookie sheets and bake at 400 degrees for 10 minutes.
When making cookies, I use parchment paper so I do not have to grease and wash the cookie sheets repeatedly.
I do not know how many this makes and will have to guess.