BarbryT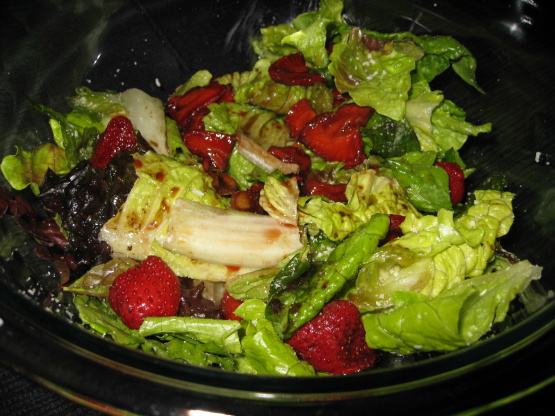 This is a beautiful, delicious salad!

This salad was awesome! A few adjustments we made were we added bacon to the salad. It added a wonderful texture and taste. My husband absolutely loved it!!
Slice strawberries into ¼-inch slices and mix with balsamic vinegar, sugar and water to coat strawberries. Set aside to marinate.
Mix chopped pecans with brown sugar and water in a pan and saute until glazed. (Be careful not to overcook). Set aside.
Chop red leaf and Romaine lettuce into 2-inch pieces.
Toss lettuce, parmesan cheese, balsamic vinaigrette, and glazed pecans together and place in salad bowls.
Strain strawberries from glaze and arrange on top of salad.
Top with cracked pepper.