Cuistot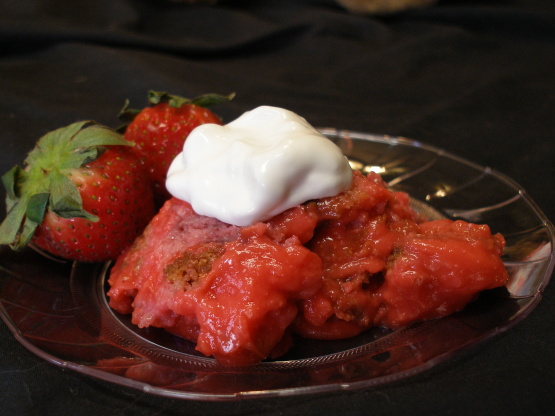 I call this my disaster cake because the first time I made the basic cake + gelatin + fresh strawberries [said recipe came from a friend] in a bundt pan & it came out in pieces. From that I created the finished product, adding additional strawberries, the Danish Desert & the cream cheese, & have had many complements on it over the years. And, the cake tastes great just plain, that is, without the strawberries on top & without the pudding. It also tastes wonderful without the strawberries on top & without the cream cheese in the pudding. But, with all of it, well.......

This was really good. Kinda on the sweet side for me but my kids and dh ate it up in nothing flat! The cake without the pudding is fantastic! and I'm thinking of trying other cook-n-serve pudding since getting this particular brand was hard. (thanks for the help with that!!) I also think a little lemon zest might cut the sweetness for me a bit. I'm sure I'll be making this again for my crew as they all loved it!
Mix strawberries & sugar together & let stand for 15 minutes.
Preheat oven to 350 degrees F. Grease & flour a 13"x9" glass baking dish.
Combine the strawberries & sugar mixture with the next six ingredients together in a large mixing bowl & beat with electric beater on medium-high speed for 3 minutes until well blended.
Pour into prepared pan & bake 60-65 minutes, then cool 10 minutes on a wire rack before removing completely from the baking pan. Cool COMPLETELY.
Break the cooled cake into good sized chunks [larger than bite-sized] & spread them out in a 15"x10" baking dish, making sure all the pieces are below the rim of the baking dish, but NOT FLAT ~ Lumpy is great!
If wanted, spread the optional 2 cups of sliced fresh strawberries over the top of the cake pieces.
In a large sauce pan mix the Danish Desert with the cold water. Bring it to a full boil & boil for 1 minute, stirring constantly.
If you opt to use the cream cheese, either mix it in with the Danish Desert hot pudding at this time, OR carefully pour the red pudding mixture into a large mixing bowl and just as carefully, using an electric mixer on low (or use a large whisk), mix the pudding & cream cheese together. [There will probably be small specks of cheese throughout the pudding mixture, & that's fine. Pour the pudding over the cake & strawberries, being careful to completely cover all of the cake and all of the strawberries [Although the chunks are covered, the result should be a lumpy, bumpy surface, not smooth!]. To avoid a top film on the pudding, cover the entire surface of the pudding with plastic wrap and let cake cool completely. Refrigerate.