Strawberry Cucumber Salad
Ambervim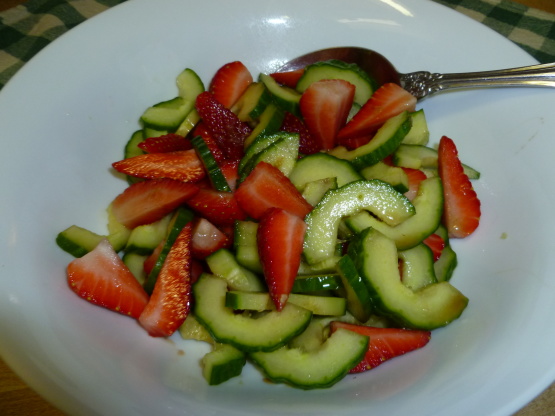 What a nice and tangy salad this is...this was a mistake that turned out to be a winner!

Top Review by Debbwl
All I can say is Yummm! The day was hot and the salad ice cold and so refreshing. Who would have thought strawberries and cucumbers could work so well together. I did make one small change I used rice vinegar in place of apple cider vinegar.
Peel cukes. Slice in half lengthwise. If seeded, remove with teaspoon. Cut cukes across into 1/4 inch slices. Place in colander. Sprinkle with salt and toss. Allow to drain about 20 minutes. Rinse with cold water to remove salt. Spread out on paper towels and pat dry.
Place berries and cukes in bowl and chill.
Whisk brown sugar, soy, and vinegar together until smooth. Set aside.
When ready to serve salad, pour sesame oil and dressing over and toss.