Ms B.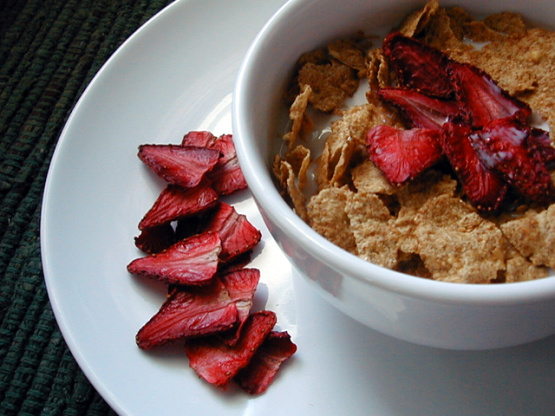 From BBC UK. Ideas for using these are - with your morning cereal, healthy snack, as topping for a refreshing summer salad, dessert topping etc.

Top Review by Ms B.
I prepared Strawberry Crisps one morning before work, but they didn't "crisp" as much as I would have liked. I was afraid of cooking longer, as I didn't want the browned issue that the other reviewer experienced. I left them on the cooling rack while I spent a little time at work in the afternoon, and returned home to try them in a bowl of Wheaties as an afternoon snack. They pack a lot of flavor, but I still wish that they had more crispness.
Preheat the oven to 110°C/225°F.
Slice the strawberries very thinly; blot any excess juices with kitchen paper and lay on a baking tray lined with parchment paper.
Dry the slices in the oven for 1 hour until almost dry, turn over, then continue to dry out in the oven until crisp but not golden (this could take up to a further 1-1 1/2 hours).
Turn off the oven and leave to cool.
If you are not using the crisps straight away, store them in an airtight container.