Strawberry & Cream Pinwheel Appetizers
alligirl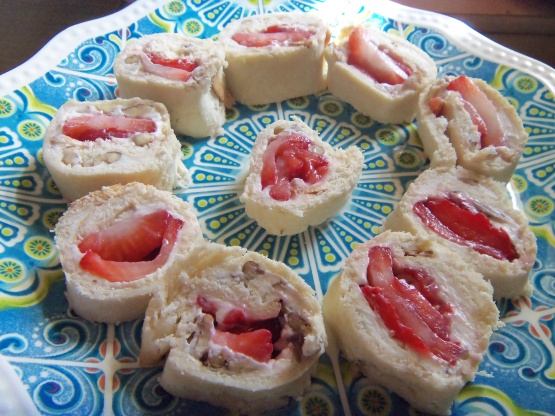 These little treats were created for RSC #11. I hope you will enjoy these light tasting appetizers, as much as we did.

Just loved these, as a light lunch for myself, but I would be proud to serve them for any shower or luncheon I was hosting. The little tang from the goat cheese, with the strawberry sweet and crunchy nuts! Yum! Texture! Flavor! Thanks so much for sharing a winner, Baby Kato!
4

ounces cream cheese, softened

2

ounces goat cheese, fig, softened

1

tablespoon milk

1

tablespoon honey, liquid
1⁄2 tablespoon key lime zest, grated
1⁄4 cup pecans, coarsely chopped
3⁄4 cup strawberry, fresh, small, thinly sliced

8

slices white bread, soft, crusts remove

8

pieces plastic wrap
In a large bowl, mix the cream cheese and goat cheese together, blending well, next add the milk, honey and key lime rind.
Once the cheese mixture is creamy add the coarsely chopped pecans and place in the fridge to chill for 30 minutes.
Thinly slice the strawberries and set a side until needed.
Remove the crusts from the bread.
With a rolling pin flatten the bread slices, horizontally and vertically.
Spread 1 tablespoon of the cream cheese mixture on the prepared bread slices.
Place a piece of plastic wrap on table and place the bread on top of the plastic wrap.
In the middle of the bread place two rows of of the thinly sliced strawberries.
Gently roll the bread into a log, cover the log with the plastic wrap, do this for each slice.
Chill the covered, cream cheese logs in the fridge for 3 hours or overnight, for the flavors to blend.
Remove the logs from fridge, take off the plastic and gently slice the logs with a bread knife.
You should get four slices from each bread log.
Enjoy, enjoy, enjoy.