Strawberry Cream Cheese Snacks
I was trying to find something to snack on one night, and I remembered reading another recipe about strawberries dipped in brown sugar, so I came up with this. Amounts are approximate, since you really just dip the cut sides of the strawberries in the sugar, and spread cream cheese on crackers... so it depends on how much sugar and cream cheese you like. This is the first recipe I have published on here, mostly because it's the kind of easy thing I like to find on the site and I didn't see anything like it.
Directions
Slice strawberries in half and place in bowl.
Spread cream cheese onto crackers.
Put brown sugar into small bowl or plate. Press cut side of each strawberry into the brown sugar, then press each slice lightly onto cream cheese coated crackers.
Enjoy!
Reviews
Most Helpful
These are so good! I made up 6 of them today for my afternoon snack and they are perfect as far as the sweet/salty pairing. I used Ritz crackers and I think it worked out perfectly. Such an easy recipe for a quick and satisfying snack. Although I can definately see these going on a party menu also. Great recipe, thanks for sharing! (BTW-saw this recipe in PAC spring 2010 reviews and HAD to save it!) Glad I did!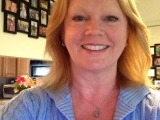 Loved them! The simplicity makes it a very attractive recipe. The outcome seals the deal! I did have an epiphany, and used a couple of graham crackers that I had handy; really like a little mini cheesecake! I also enjoyed the ones I made with regular crackers (club). The salt/sweet combo is a fave, and this delivers! Will definitely be making these during strawberry season, as they're a cinch to make, with ingredients I have on hand! Thanks for sharing, Queen Roachie!

I had a handful of strawberries in the fridge when I came across this recipe, so I decided to try it! :) I used Club crackers but otherwise made as directed. The saltiness of the cracker and cheese with the sweet of the berry and sugar made for a lovely combination. Thanks for sharing your creation!