Strawberry & Cream Cheese Sandwich Cookies
Ms B.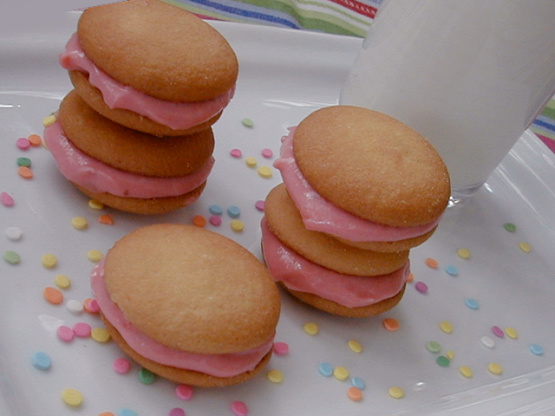 This makes a nice finger food treat. Super quick. Super Easy. Best of all...no cook.

What a clever idea! I used this cream cheese filling with some homemade sugar cookies I prepared and served to the kids on Valentine's Day as "Valentine's Day Sandwich Sugar Cookies". They were a huge hit with my teenager and my 4yr old! I put the cream cheese in my kitchenaid mixer to make it nice and fluffy and I also used reduced fat cream cheese. It was delicious! My teenager suggested spreading the leftover filling on a bagel for breakfast. She loved it! Thank you!
In a medium bowl, smash cream cheese with a fork.
Combine the rest of the ingredients (except the vanilla wafers) together with the cream cheese.
Mix well.
Let chill in the refridgerator for at least 30 minutes.
On the flat side of the wafer, spread 2 tsp of mixture.
Then top with another wafer to make a sandwich.
Sprinkle with powdered sugar.
Serve immediately.