Strawberry Cookies (Czechoslovakian)
Nimz1466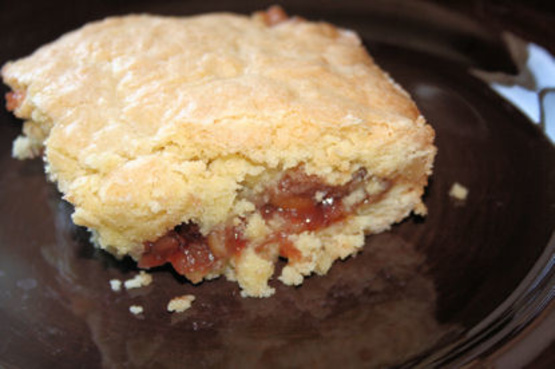 One of my favorite cookies. You can also make this with raspberry jam. My Grandmother made these all the time.

We really enjoyed these slightly soft bar cookies. The recipe measurements and directions are very clear and accurate, although I did get a greater number of cookies by cutting them much thinner. These tasted so comforting - the perfect thing to eat while curled up in a chair reading a book and sipping a cup of tea. Thank you for this delightful, old fashioned, homey recipe.
Grease an 8 x 8-inch pan.
Cream butter & sugar.
Add eggs & blend well.
Gradually add flour.
Spread evenly one-half of the butter mixture in bottom of pan.
Spread evenly with the jam & sprinkle with chopped nuts.
Spread the second half of the butter mixture on top of the jam.
Bake at 325°F for about 45 minutes or until brown.
Cut into bars when cool.