cbw8915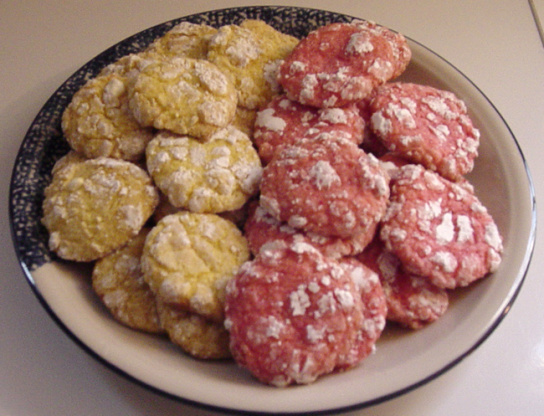 I adopted this recipe in Aug. 2006. The original chef, cbw's, original description: "I did a search online trying to find some cookies to make for a friend as a joke (a friend who hates both strawberry and cool whip) and found this! They are wonderful-I have gotten several people hooked on these! You can also use different flavors of cake mix depending on what flavor you prefer and I've used strawberry cool whip along with the strawberry cake mix...mmmmmm!"

I haven't made this recipe but was at someone's house who's husband passed away and someone brought these AWESOME orange cookies. I asked for the recipe and it was EXACTLY like this EXCEPT they used two eggs instead of one. I wonder if the people who gave it not great ratings tried another egg if they would have gotten better results (just a thought). After the service someone had the same cookies but in chocolate. They were awesome again. I can't wait to try these with spice cake and maybe add some finely chopped pecans. I LOVED the cookies!
1

(18 ounce) package strawberry cake mix

1

(8 ounce) container Cool Whip

1

egg
Preheat oven to 350.
Combine the first 3 ingredients.
Roll tablespoon sized balls of dough into powdered sugar.
Place on cookie sheet and bake for 8-10 minutes, until edges of cookies turn golden brown.
Enjoy!