Boomette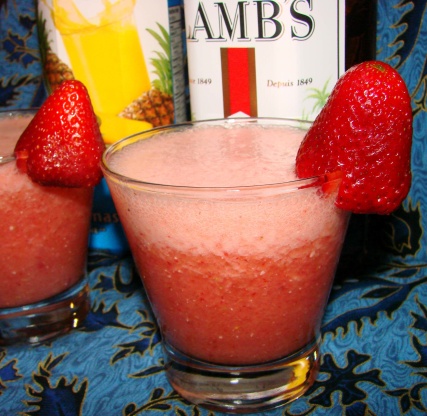 Wow this is great! I had to try this drink when I saw it in the Bartender's Guide. Even DH loves it also. It's a pina colada with added strawberries. I used 6 fresh strawberries. But I guess frozen can be used but with fresh, it has a very fresh taste. This drink is for 1 serving, but I made it for 2 in lowball glasses.

Having this now, I used Barcadi Rum, with the strawberries and it is very good. Great drink. Might try it with pineapples too. Made for I recommend.
In a blender, mix together the crushed ice, rum, pineapple juice, coconut cream, and hulled strawberries.
Blend until smooth, then, without straining, pour into a chilled highball glass (or 2 lowball glasses).
Dress with the wedge of pineapple and a few strawberries.