PaulaG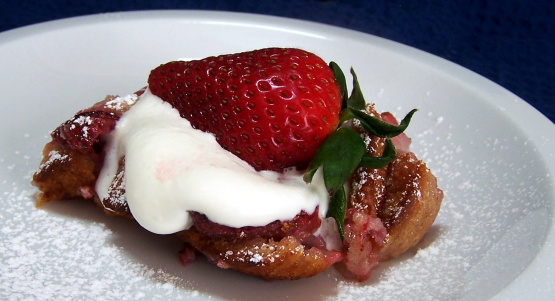 I was inspired by Dorel's Peach Cobbler (#75942). I made her PC, then later noticed that my pint of strawberries was going soft. So, I thought I would experiment with the Dorel's recipe and add a little twist! My kids LOVE it!! (bet this would work with fresh raspberries too).

In a word....WOW! I followed directions to the letter and it turned out perfect. Thanks Steph for a great recipe.
In a 1 cup measure, put 3 (small-medium) whole strawberries in cup, pour milk to 3/4 cup line, add 1 tsp vanilla; Blend until smooth.
Strain milk mixture to remove seeds.
(I use the strawberries and milk so the girls would get excited about a pink cake!).
Melt margarine in microwave (melt right in you 8x8" square glass baking dish).
While margarine is melting, combine flour, sugar, baking powder, salt& cinnamon.
Stir in milk mixture until combined.
Pour batter over butter (I gently spread it out to the edges).
Top with sliced strawberries.
Bake at 375F for 45 minutes.
Serve warm with vanilla ice cream or cool whip.
Even great cool!