twissis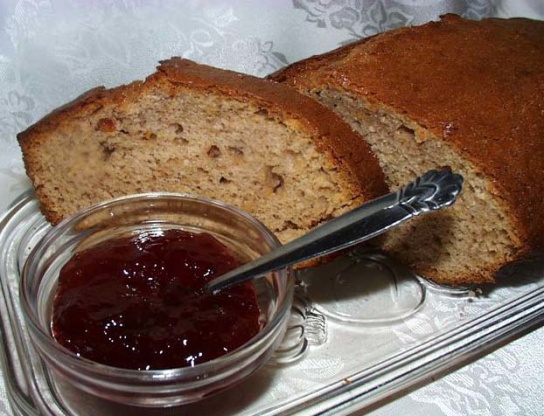 Intense flavor & easy. Lasts several weeks in the refrigerator. A great bread to use as the base for strawberry shortcake with a twist! This could be toasted as croutons for summer salads too. Another delicious recipe from Welch's "The Magic of Jelly". I suspect this might work well for OAMC. This calls for Strawberry Spread, but Zaar keeps changing it to "jelly". Servings may vary depending on slice thickness. Kudos to Twissis for the addition of the baking powder which lightened the original dense texture.

I made a half recipe (1 loaf) of this PAC choice in my new baking form loaf pan w/the somewhat odd dimensions of 11x4x4, but the outcome was stellar. The citrus & strawberry flavors were nicely balanced, & the texture was dead center between a densely moist banana bread & a light as air cake. We enjoyed it spread w/strawberry preserves & DH pronounced it a keeper! Thx for sharing this recipe w/us. :-)
Preheat oven to 350 degrees.
Grease two loaf pans.
In a large mixing bowl, cream butter and sugar.
Add eggs, one at a time, beating well.
Mix in strawberry spread.
Mix in flour, cream of tartar, baking soda and baking powder.
Mix in sour cream, vanilla, lemon juice and orange zest.
Pour into greased loaf pans and bake about 50-60 minutes (or until inserted knife comes out clean).