Strawberry Cheesecake Tarts
Leslie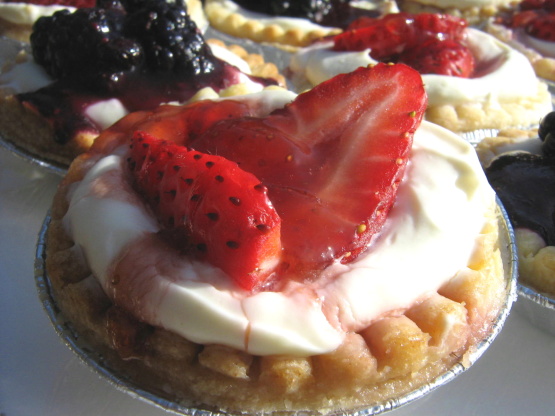 Delicious, impressive looking little tarts! You can use any type of berry you want, just make sure you use the same type of preserves as berries. Adapted from Oregon Strawberry Recipes.

I don't think 5 stars are enough. Aside from using light cream cheese and sour cream like others, I also used Splenda. I was out of lemon zest so I used a teaspoon of lime juice for the citrus. These were amazing. I also used red raspberries and black berries to make mine. Topped with light whipped cream they were quickly devoured. This is my new favorite dessert. Much healthier than most desserts I eat. And so quick to make!!! Thank you so much Leslie for posting the recipe. A definite keeper for me!
Combine cream cheese, sour cream, sugar and lemon peel in small bowl.
Beat until smooth.
Spread evenly into tart shells.
Top with sliced strawberries, pressing into cream cheese mixture slightly.
Refrigerate about 4 hours.
Before serving, spread the strawberry preserves evenly over the filling.
*Optional: Drizzle melted chocolate over top!