Strawberry Cheesecake Oatmeal
loof751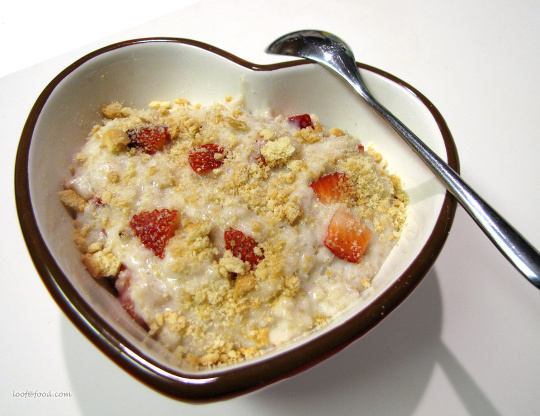 delicious breakfast that'll make you believe you're having dessert!

This is a wonderful breakfast treat! I would not have thought to add cream cheese to oatmeal but it gave it a very nice rich and creamy taste - I did add some sugar and with that and the vanilla this really did have a nice cheesecake flavor. I didn't have any graham crackers so crumbled a shortbread Girl Scout cookie on top and that tasted great. Thanks for sharing your recipe!
pour oat bran in a large bowl and add enough water to cover, stir.
microwave for about 2 minutes (or more if watery).
add light cream cheese and stir until smooth.
add vanilla extract.
add sugar substitute.
stir in strawberries (with tops removed and cut into 4 sections).
crush graham crackers in your hands and sprinkle over the oatmeal.