Strawberry Cheesecake Muffins
twissis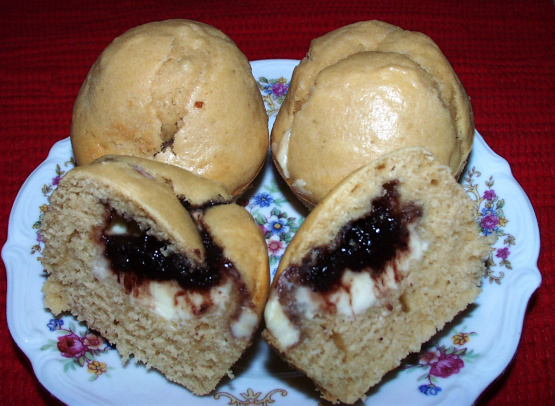 The name says it all for these wonderful muffins.

Delicious! I didn't have powdered sugar so subbed baker's sugar and they still came out great! I made a double batch so that I could have plenty of muffins for those of my kids who don't want cream cheese ANYTHING, and both versions are yummy.
Heat oven to 375.
In a bowl combine cream cheese and icing sugar; beat till smooth. Set aside.
In a bowl combine flour, baking powder and salt.
in another bowl combine egg, milk, brown sugar, butter, lemon zest, almond extract. Add to flour mixture, stir just till moist.
Spoon batter into tins, fill 1/4 full. Add 1 tbsp cream cheese mixture and 1 tbsp jam. Top with remaining batter.
Bake 20 minutes till light brown.