Strawberry Cheesecake Bon Bons
2Bleu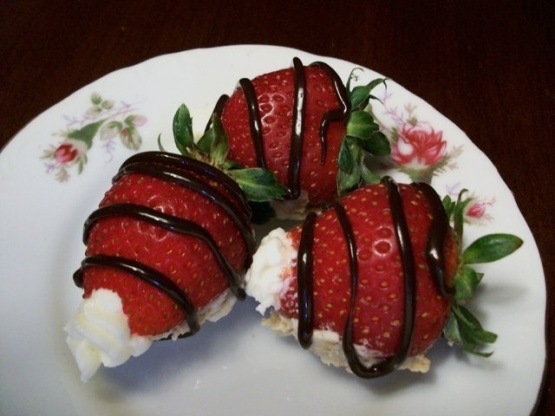 These are dainty little dessert treats that can be whipped up in a jiffy. Make for two for a romantic dessert, or spend the day making a batch for a dinner party. :) We created these treats from Absolutely the Best New York Cheesecake (Gluten-Free). If you use a cheesecake that has a graham cracker crust, you can use that for the graham cracker crumbs and just add the sweet biscuits to that. For more chocolate flavor, after you put the crumb mixture on the strawberries, dip the bottoms in chocolate coating and allow to firm up. Enjoy!

I just had two of these for breakfast! Forgive me, I didn't use your cheesecake recipe (but I will try it soon!), but I was experimenting with a dessert idea and had leftover cheesecake batter. I baked em up in a muffin pan and used about half a piece for one strawberry. I haven't tried the other "cheesecake-stuffed strawberries" that are more of a cream cheese filling instead of actual cheesecake, but I don't need to! If you're going to indulge, you might as well go all-out and use REAL cheesecake! Thanks for sharing!!!
Mix graham cracker crumbs, biscuit crumbs, and 3 Tbsp of the cheesecake and set aside. Hull the strawberries from the bottom (opposite the leaves) and set aside. NOTE: A potato peeler works great!
Place remaining cheesecake (without crumbs) into a pastry bag. Fill strawberries with cheese filling, then smear the bottoms of strawberries with the crumb mixture.
Drizzle hot fudge syrup over strawberries. Serve immediately or cover tray with plastic wrap and refrigerate till needed later that day.