Strawberry Cake from Scratch
evvil1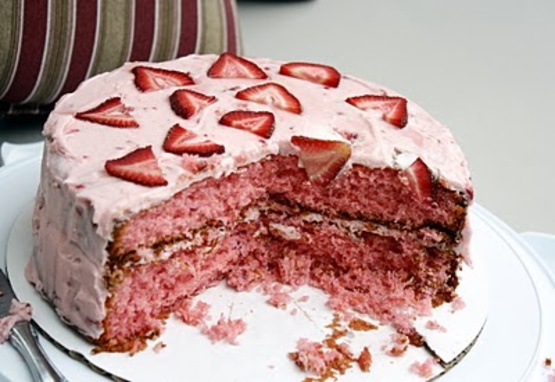 If you want a great strawberry cake recipe from scratch that doesn't use jello, then your in the right place! This is a great moist cake with real strawberries. I tried a couple of different recipes that I wasn't thrilled with, so I played around a bit and found that the changes I made worked out quite well. I wanted this recipe to make cake balls and it worked very well since the cake wasn't too sweet. I mixed them with homemade strawberry cream cheese frosting!

I gave this 1 star for the flavor of the icing...the cake even with the strawberries AND the strawberry extract had NO flavor whatsoever....what a total waste of time and ingredients. The icing does have a good flavor and does get a bit thicker if you put it in the refrigerator for awhile....I will not make this one again.........:( I am quite a good baker but this just didn't do it for me. I am pretty sure now that the reason for the Jello in most of the recipes is for the flavor.
Combine sifted flour and baking powder in a bowl and set aside. Using a mixer, cream the butter and sugar. Add eggs 1 at a time; mix well after each addition. Next add pureed strawberries and extract and combine well. Gradually add the flour (and baking powder) and the milk alternating between them until completely mixed. Then add lemon zest and juice and mix well.
Lightly grease and flour a 13 X 9 pan or (2) 8" round pans. Pour batter into pans and bake at 350 degrees for 25 - 30 min or until a toothpick inserted in the middle comes out clean. I did (2) 8" pans and it was done perfectly right at 25 minute Oven times may vary.
For the icing : using a mixer, cream the cream cheese and butter until nice and smooth. Add the extract and pureed strawberries. Gradually add the powder sugar until it has the consistency and sweetness you desire. You can alter this to your liking. If you make it a bit too sweet, add just a little bit of lemon juice. This will help balance out the sweetness.