Rita1652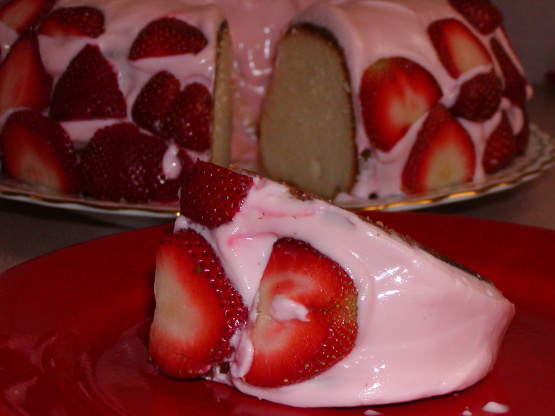 Strawberry cake made from ice cream and box cake.

Top Review by LAURIE
Good Heavens!!!! What started out to be the cake from H*** turned out to be HEAVENLY!! To start out my bundt pan walked off and so I used an angelfood cake pan..heavily greased and floured. Second the strawberry ice cream I had ran away with the bundt pan (I hope they are happy together)so I subbed vanilla and added 1/2 cup homemade strawberry puree, slightly chunky. Worked like a charm! I had no berry liquor so I used 1 TBS milk, 1 TBS strawberry liquid drained from the puree and 1 tsp vanilla extract. OMG this is so moist and rich that we almost made ourselves sick. Thanx Rita this was so simple and oh so good!!!!
Preheat oven to 350°F; coat standard bundt pan with non-stick cooking spray. Dust with flour, shake out excess.
With electric mixer, beat cake mix, melted ice cream, and eggs in a bowl for 3 minutes on medium speed. Scrape into prepared cake pan.
Bake at 350°F for 45-55 minutes or until tooth pick comes out clean. Cool pan on wire rack 20 minutes.
Frosting: In a large bowl, beat cream cheese, sour cream, butter and liqueur on medium speed until light and creamy (2 minutes or so). On low speed, gradually beat in confectioners sugar, about 1 to 2 minutes. Mix in food coloring. Refrigerate while cake cools.
Once cake is cool, spread frosting over top and sides. Garnish with sliced strawberries. Refrigerate until ready to serve. ENJOY!