Strawberry Buttermilk Pancakes
KateL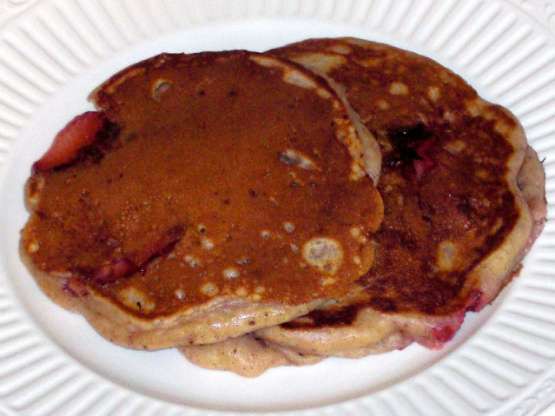 Another special occasion breakfast treat.

Wow, I cannot believe I am the first to review this recipe ! These were soooo goood. Made them for a b'day breakfast, simple and quick, ttly delish. I added another 1.5 cups of strawberries and a touch of extra cinnamon. You could even add different fruits when they are fresh & in season with an excellent pancake batter like this. Served with Pure Maple Syrup & breakfast sausages, next time will add whipping cream as a garnish. Also made a batch of Honey Cinnamon Butter # 43768. This batter without all the x-tra treats would be an excellent pancake batter for everyday breakfasts. Best homemade pancake batter I have ever tried. I had given up on homemade batters but this was perfect and I will use this one whenever I make pancakes !!! Thanx for sharing a great treat !
In a bowl, add the first 6 ingredients; stir to combine.
In another small bowl, add the buttermilk, eggs, and butter; stir to combine.
Add the buttermilk mixture into the bowl with the dry ingredients; stir just until combined.
Gently fold in the strawberries.
In a large skillet or griddle,over medium heat, add a little vegetable oil or butter to coat the pan.
Pour enough batter into the skillet to make a 5-inch circle; cook the pancakes until the tops are covered with tiny bubbles, then flip them over and finish cooking.
Serve warm with strawberry syrup or melted butter and sifted powdered sugar.