Strawberry-Buttermilk Frozen Dessert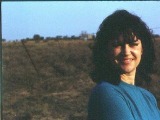 THREE ingredients! So simple, so quick, pity you need to freeze it before eating! This came from a South African magazine probably 2 decades ago, name of mag long forgotten. I copied it and have made it many times. Use any other preserves or jam, but strawberry is really nice.
Directions
Stir together the buttermilk, jam/preserves, and vanilla until mixed.
Pour into a suitable freezer container, and freeze until firm, perhaps overnight.
Cut up the frozen mixture, place in mixing bowl, and whip with electrix mixer until fluffy.
Return to freezer container, cover, and freeze until firm.
Serve scoops in pretty bowls with fresh strawberries and mint leaves.
(Try other preserves or jam as well).
Most Helpful
Wow! For only 2% fat calories, what a treat! In fact, I liked this better than frozen yogurt. Thank you Zurie! Made Zaar Chef Alphabet Tag Game, please see my rating system as I rate tougher than most.

Sounded, at first, way out! But we tried it, and it was great!! The kids loved it. What a simple, successful recipe, with a delicious sweetsour (more sweet than sour) taste! Very refreshing!! I would think peach or apricot jam or preserves would also be fantastic. We do not have an ice cream maker anyway, so this recipe really fitted the bill. A great hot-weather quickie, which I recommend wholeheartedly. Light and great finish to a meal.