grobb100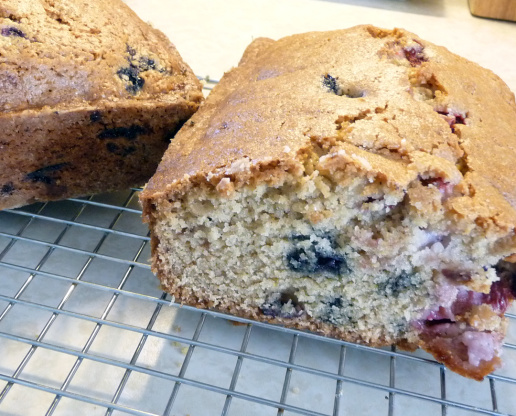 Moist and delicious. Freezes beautifully.

I'm always looking for a snack that doesn't make me feel so bad after having eaten it! I used frozen, unsweetened strawberries. I let them thaw and also used the juice. My substitutes were as follows: 1 egg and 3/4 c. egg substitute, 1/4 c. oil and 1 c. unsweetened applesauce, 1.5 c. white flour and 1.5 c. whole wheat flour, 1 c. sugar and 1 c. Splenda, added 1 tsp. vanilla extract and 7 tsp. ground flax seed meal. My husband and I just gave it a taste test and it's wonderful-even with the modifications! Moist, yummy and good strawberry flavor. Will definitely make this again!
Preheat oven to 350 degrees F.
Grease and flour two 8"X4"X3" loaf pans.
Combine dry ingredients.
Make a well in the centre.
Put strawberries (thawed), eggs, oil and nuts in the well.
Mix thoroughly into a nice batter.
Pour into two loaf pans.
Bake 1 hour at 350 degrees F or until a toothpick inserted in centre comes out clean.
Cool in pans 5-10 minutes, then remove from pans and cool on racks.