Strawberry-Banana Milkshake Muffins
Shasha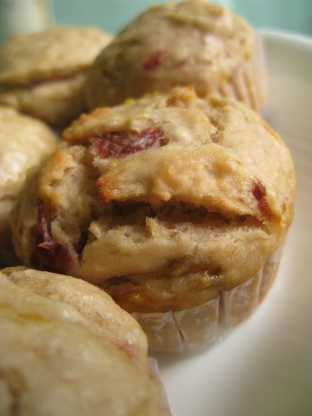 One day, I was craving a milkshake, but I wanted to bake some muffins. So I came up with this! I love how light and moist these turn out. If you want to use fresh or frozen strawberries, I guess you could blend a 1/2 cup strawberries with 1/2 cup plain yogurt or sour cream or buttermilk. I'm waiting for strawberry season to try that out!
Preheat oven to 375 degrees.
Mix together sugar with yogurt, bananas, oil, vanilla and lemon zest.
Stir together whole wheat flour, all-purpose flour and baking powder/baking soda.
Add flour mix to the wet ingredients and stir just until the flour is incorporated.
Spoon batter into 12 greased muffin cups.
Bake until golden brown, approximately 15 to 20 minutes.