Strawberry Balsamic Salad
Brenda.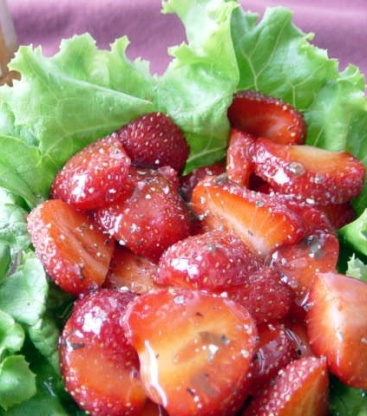 Fresh strawberries with a drizzle of balsamic vinegar and fresh cracked pepper. This recipe is very easy but very elegant.

We tried it as written, and it was wonderful. Then we put it on top of greens, and it was excellent. On the salad greens it seemed to beg for something salty. We tried both shaved parmesan (the good stuff), and shaved natural rind mild cheddar from a local farm. Both were fabulous.
4

cups fresh sliced strawberries
1⁄2 cup good balsamic vinegar
Slice strawberries.
Arrange on a salad plate or saucer.
Drizzle balsamic vinegar over top of berries, do not soak in a lot of vinegar.
Crack just a dusting of fresh pepper over the top of strawberries to taste.