-Patrish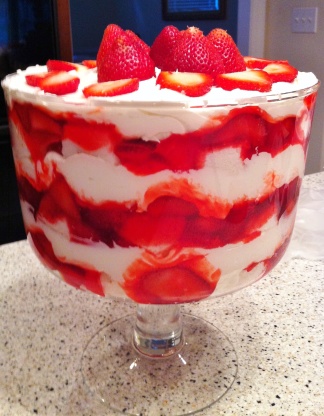 Everyone I've made this for has asked for the recipe. It makes a beautiful presentation and it's very easy to put together. You can use low fat cream cheese and low fat Cool Whip if you prefer.

This got absolute rave reviews and I'm wishing now I had taken a picture of it! Used low fat cream cheese, cool whip free, and made my own glaze out of 1/4 c white sugar, 1/4 c cornstarch - mixed well together and a cup of water. Brought it to a boil, let it thicken slightly and then added some mashed strawberries. It didn't have the color of store bought but it tasted great at about 1/4 the price. Besides that, it is a fabulous recipe. Easy to do, beautiful presentation and Yummy to boot! Thanks!
2

(8 ounce) packages cream cheese

1

(12 ounce) container Cool Whip
1 1⁄2 cups confectioners' sugar

1

round prepared angel food cake (if you can't find a round one, you can use two of the loaf type)

3

pints strawberries

1

jar prepared strawberry glaze (usually found in the produce section of the grocery) or 1 jar strawberry sauce (usually found in the produce section of the grocery)
Slice and quarter strawberries, reserving a few for garnish.
Add sugar to taste.
Cover and refrigerate overnight.
Cream sugar and cream cheese.
Add Cool whip and beat until light and fluffy.
Drain about 3/4 of the liquid produced from soaking the berries; pour the glaze over and stir.
Slice cake into 2-inch pieces.
Fill a trifle dish or 9-inch deep glass bowl, with layers of the cake, strawberries and then the cream cheese mixture.
Garnish with reserved strawberries.
Refrigerate at least six hours before serving.