Pamela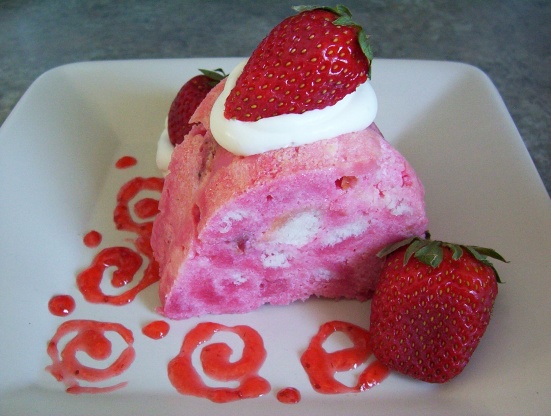 This is strawberry-shortcake-mixed-together! Quite delicious, especially on a warm summer evening. It can also be made in a Bundt pan (very lightly sprayed with Pam) served with frozen strawberries (thawed) and cream.

Made this dessert awhile ago and am now getting around to rating it . Excellent, easy and delish. Sent this dessert to my MIL'S birthday, dish came back empty. I have given this recipe out many times. For quick fixen I have used an 9x13 inch baking dish, then just let them scoop it out.
Break angel cake into small pieces.
Dissolve jello in 1 1/4 cups boiling water.
Add strawberries and juices.
Stir, and allow to cool.
Fold in whipped cream.
Pour over angel cake pieces and stir to combine.
Pour into 2-piece angel food pan (or bundt pan).
Refrigerate till firm.
Remove sides of pan, put onto serving platter and cut as you would a cake.
Serve with dollops of whipped cream and strawberries.