Strawberry and Feta Salad
If possible try to prepare the dressing in advance and chill for a couple of hours to blend flavors, this dressing is very good!
Directions
In a bowl whisk all dressing ingredients together until well blended (can use a processor to blend the dressing).
In a large bowl toss together the lettuce, toasted almonds and feta cheese.
Pour the dressing over; toss to combine.
Delicious!
Reviews
Most Helpful
Dressing is excellent! I picked this because BF has been on a fruit and cheese salad kick so I though I'd do him a favor by making this. Also I had some feta cheese to use up. Since I realized too late that I had no almonds, I substituted toasted sunflower seeds. Strawberries were very sweet considering it was the middle of the winter. My only change to the dressing was to make with MUCH less oil. I saved the leftovers for another salad, and I did make the dressing in advance to combine flavors. Great dressing and salad. Thanks!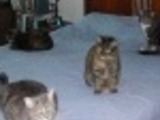 We thought this was a really nice salad. The first day I used romaine lettuce and because I had left over dressing the next day I used baby greens. I think I preferred the baby greens, but both were very good! All the flavors worked together nicely.

This is a fabulous summer salad. My husband and son loved it too. All the flavours go together nicely. I had dressing left over, which I had the next day on a red cabbage salad. I will be bringing this to bbq's all summer long. Thanks so much Kitten!