Strawberry and Chicken Salad
racrgal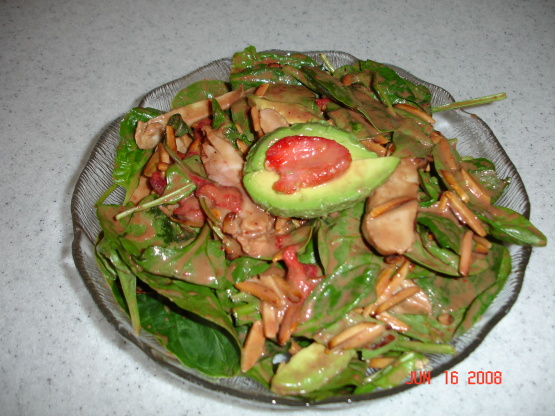 Perfect for a light brunch on a hot summer day, especially when the strawberries are in season!

Prepared for My-3-Chefs 2008 The flavors in this salad are wonderful. I used fresh spinach for my greens. For my tastes the dressing was too oily. I prefer a more "fruity" lighter dressing. I will definately make this again but will cut the oil in half and increase the mashed strawberries. I cut the amount of almonds in half. 2 ounces just looked like too much. I'll be grilling extra chicken just for this salad. Thanks MsRobbyn for a delightful meal that I will enjoy more in the future.
Slice 2 strawberries thinly and slice the grilled chicken breast.
Cut the avocado in chunks and toss with lime juice in order to avoid it turning brown.
Mix the baby greens, almonds, chicken and sliced strawberries in a large bowl.
Mash the remaining strawberry with the olive oil to make a thick paste.
Add the avocado and toss one more time.
Place all into a large serving bowl, sprinkle with the toasted almond slivers, drizzle the strawberry mash and balsamic vinegar on top.
Enjoy with a large glass of peach iced tea!