Strawberry and Broccoli Salad
PanNan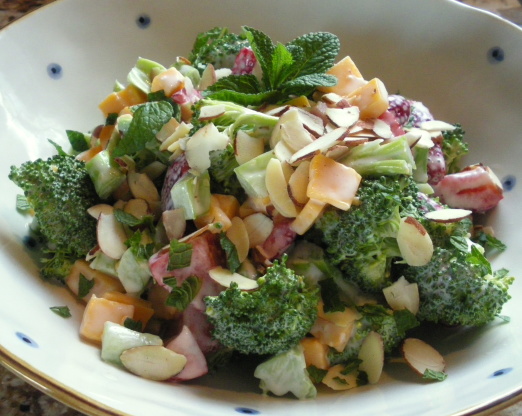 This sounds like a weird combination, but it is very tasty--not to mention healthy. Good the next day, too. Probably better.

Top Review by PanNan
Mmmm, mmmmm, good! I tried it right after making it. Can't wait to try it again tomorrow if it takes even better the second day. I really wondered about the combination of mint and cheese, but it works very well. All the flavors work nicely together. The sauce isn't too heavy and it tastes very fresh and crunchy with a little sweet/tart pop. I'm so glad I chose this one for Pick a Chef Spring 2009.
Cube cheese into 1/2 inch cubes (about bite size).
Clean and slice strawberrries into quarters.
In large bowl, combine the broccoli and cheese.
In a small bowl, whisk mayo, sugar and vinegar.
Pour over broccoli and cheese.
Toss to coat evenly.
Gently stir in berries.
At this point, you can refrigerate it or serve immediately.
To toast almonds, spread on baking sheet lined with parchment paper.
Bake at 325 only a few minutes until browned slightly. DO NOT overcook. You can "smell" when they are done. When you smell baked almonds, it's time to take them out.
Before serving, sprinkle with toasted almonds and chopped mint.
Delicious!