Annacia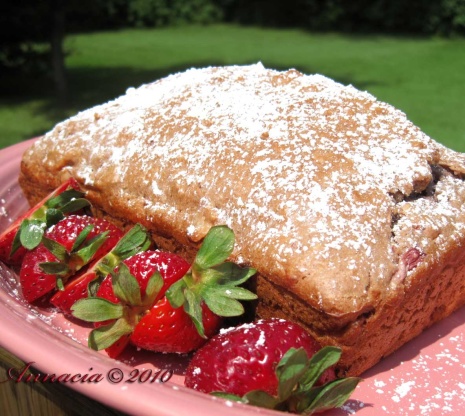 My mother gave me this recipe. The bread can be frozen.

YUM!! I made this a couple weekends ago with fresh strawberries in MI that my daughter and I picked - huge hit!! I doubled the recipe and split the batter between 3 loaf pans - turned out awesome! We froze one and ate 2!! We made freezer jam too which my 9yr old slathered on the bread and gave it another 2 thumbs up!
Preheat oven to 350 F and grease a 9 x 5" large loaf pan.
Cream together sugar and butter.
Beat in egg yolks and almond extract.
In a separate bowl, combine flour, baking soda, baking powder, and salt.
Beat in the flour mixture alternately with the strawberries to the butter mixture, and mix well.
In a separate small bowl, beat egg whites.
Fold the beaten egg whites and almonds into the bread mixture.
Pour into greased loaf pan and bake for 45-50 minutes, or until the bread tests done to the poke test.