Strawberries With Balsamic Vinegar
loof751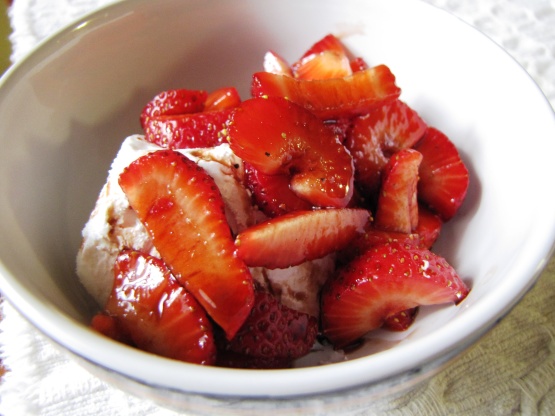 This "officially" serves 4-6, but two people could easily finish it off. If you're serving a group, serving the strawberries over mascarpone cheese (my favorite way) or vanilla ice cream adds some excellent complementary flavors. This recipe comes from Mark Bittman's "How To Cook Everything."

This is a wonderful way to serve strawberries! I have to admit I was a little skeptical, especially about adding the pepper, but I really enjoyed it. The tart, tangy flavor of the vinegar was great with the sweet strawberries and the pepper just added another flavor dimension. Served these with whipped cream and just loved it - thanks for sharing the recipe! Made for Spring PAC 2009
Toss the strawberries with the 1/4 cup sugar and let sit for 10 minutes.
Sprinkle with the vinegar; taste and add more sugar or vinegar if necessary. Sprinkle with the pepper and serve.